Add to Cookbook

Beef with chestnuts and currants
without browning 20 minutes, with browning 30 minutes
low 5-7 hours, high 3-4 hours, plus extra 15 minutes
6-8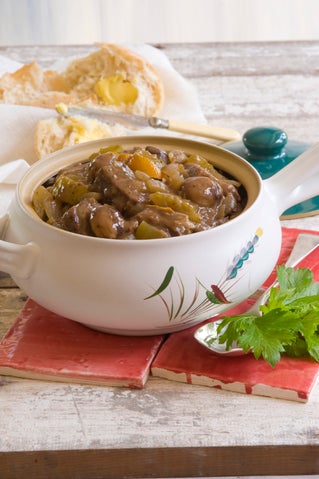 Chestnuts are increasingly more available here. The season is late autumn to winter, but canned chestnuts are a good alternative and easier to use. Their inclusion in this casserole adds a delightful texture and taste.
Ingredients
1 kilogram lean beef for casseroling
2 rashers rindless bacon
1 onion, peeled
4 stalks celery, trimmed
½ cup currants or chopped prunes
3 tablespoons flour
330 millilitre bottle dark beer
1 cup beef stock
½ teaspoon ground nutmeg or mace
grated rind and juice of one orange
300 gram (approximately) bottle or can whole peeled chestnuts
Method
Turn the slow cooker on to low to pre-warm while gathering and preparing the ingredients.
Cut the meat into chunky 3cm sized pieces. Slice the bacon, onion and celery thickly.
If wishing to brown the ingredients, heat a dash of oil in a frying-pan and, when hot, brown the beef, bacon, onion and celery well. This will be best done in batches.
Into the pre-warmed slow cooker put the beef, bacon, onion, celery and currants or chopped prunes.
In a jug, mix together the flour, beer, stock, nutmeg or mace and orange rind and juice to make a smooth sauce. Pour over the beef and stir to mix evenly. Cover with the lid.
Cook on low for 5-7 hours or on high for 3-4 hours, or until the meat is tender. Drain the chestnuts if required and stir them into the casserole. Cover and cook for a further 15 minutes to allow the chestnuts to warm through.
Serve the casserole with your favourite seasonal vegetables or simply with warm, buttered bread.