Add to Cookbook

Beef stroganoff (slow cooker method)
without browning 20 minutes, with browning 30 minutes
low 7-8 hours, high 3-4 hours
8-10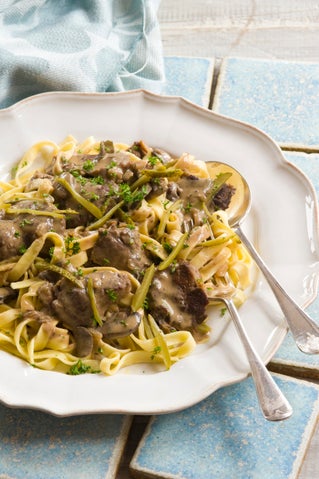 A classic beef stroganoff is prepared from the tail-end of the beef fillet. It's quickly cooked, with a generous knob of butter, flambed with brandy and finished with sour cream. This slow-cooker version combines all the classic ingredients but simmers slowly, producing a rich-flavoured dish. I always add shredded gherkins for a touch of piquancy.
Ingredients
1.5 kilograms lean beef for casseroling
2 onions, peeled and finely sliced
500 gram button mushrooms, finely sliced
8-10 gherkins, finely sliced
1 tablespoon flour
1½ cups beef stock
½ cup brandy
250 gram tub sour cream
1 tablespoon prepared mustard
Method
Turn the slow cooker on to low to pre-warm while gathering and preparing the ingredients.
Cut the beef into thin stips or slices. Season with pepper.
If wishing to brown the ingredients then heat a good knob of butter in a large fying-pan and brown the meat over a moderately high heat. This will be best done in batches. Add more butter if required. Set the beef aside and cook the onion until lightly brown.
Into the slow cooker put the beef, onions, mushrooms and gherkins.
Mix together the flour, stock and brandy and pour into the slow cooker. Stir to mix as well as possible and cover with the lid.
Cook on low for 7-8 hours or on high for 3-4 hours.
Stir in the sour cream and mustard and season with salt and pepper. Serve the stroganoff over pasta or beside mashed potatoes and your favourite vegetables.
Cooks Tips
Variation - Use boneless chicken thigh portions in place of beef. Be sure to brown the chicken for best flavour. - I used beef shin in this picture. There's heaps of flavour to the meat so long as it is cooked slowly to ensure the connective tissue and meat become meltingly tender. - As this makes a large amount, freeze any excess. It is best to freeze before the slour cream and mustard are added. Adjust the amount of sour cream and mustard accordingly.