Add to Cookbook

Beef Short Ribs in Black Bean and Liquorice Glaze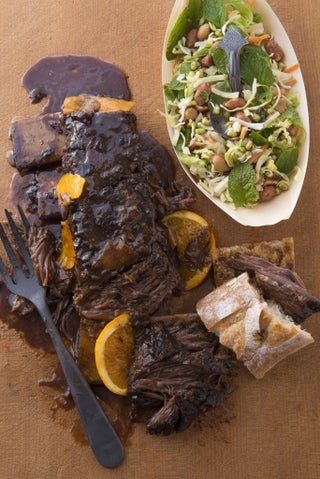 Meaty beef spare-ribs, slow cooked in a black bean, orange and licorice marinade until the meat falls from the bone, is just perfect for a lazy meal. Serve a coleslaw preapred wth the usual ingredients along with sliiced apple and honey roasted peanut .
Ingredients
2 oranges
1/2 cup black bean sauce
2 beef short ribs, each with 4 bones
10cm cm piece black liqourice, finely sliced
Method
Preheat the oven to 140 °C.
Grate the rind from the oranges, halve and squeeze out the juice and use a spoon to scoop out any remaining pulp and mix all three with the black bean sauce and liquorice.
Brown the meaty side of the short ribs in a dash of oil in a hot frying pan .
Place the beef short ribs, meat side uppermost in a ceramic dish and pour over the black bean and orange sauce. Season with black pepper and cover.
Bake in the preheated oven for 3 ½ - 4 hours, removing the lid or foil n the last 30 minutes of cooking time. The beef should be well cooked, with the meat beginning to fall from the bone and the accumulated liquid in the dish beginning to form a glaze.
Serve with a citrus-dressed coleslaw.
Cooks Tips