Add to Cookbook

Beef rendang with fresh cucumber relish
without browning 20 minutes, with browning 30 minutes
low 7-8 hours, high 4-5 hours
8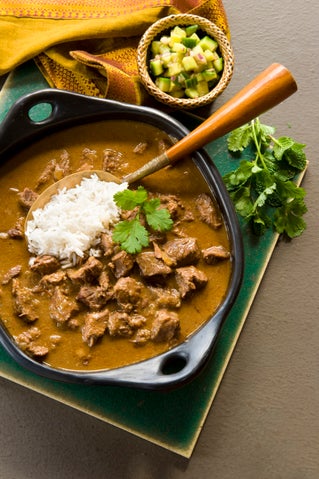 This Malaysian beef dish is traditionally quite dry. The meat is cooked slowly in coconut milk and spices, so that by the end of cooking the meat has absorbed all the liquid. I prefer a saucier dish to mop up rice with, but if you'd prefer a more authentic version, use 1 cup of coconut milk only.
Ingredients
1 tablespoon tamarind pulp
¼ cup water
1.5 kilograms lean beef for casseroling
2 stems lemon grass
2 onions, peeled and diced
1-1½ tablespoons minced garlic
1 tablespoon minced ginger
8 dried chillies or 1 tablespoon Sambal Oelek
6 whole cardamom pods or 1 teaspoon cardamom seeds
2 teaspoons ground coriander
1 teaspoon ground cumin
½-1 teaspoon ground laos, optional
½ teaspoon ground cinnamon
1 teaspoon salt
2 cups coconut milk
fresh cucumber relish
1 tablespoon tamarind pulp
¼ cup water
1 fresh telegraph cucumber
2 tablespoons grated palm or brown sugar, ¼ red onion, finely diced, ½-1 teaspoon finely chopped lemon grass, 2 tablespoons chopped fresh mint
Method
Turn the slow cooker on to low to pre-warm while gathering and preparing the ingredients.
Knead the tamarind pulp into the water until murky and thick. Scoop or strain out the seeds and fibre and reserve the thick liquid.
Cut the beef into finger-sized pieces. Trim the lemon grass where the white bulbous end changes colour to green. Finely slice the white part. Discard or use the green stem for flavouring sours, stock or rice.
If wishing to brown the ingredients then brown the beef in a good dash of oil. This will be best done in batches to avoid the meat from stewing.
Into the pre-warmed slow cooker put the beef, tamarind water, lemon grass, onions, garlic, ginger, chillies or Sambal Oelek, cardamom pods or seeds, coriander, cumin, laos if using, cinnamon, salt and coconut milk. Stir to mix as well as possible. Cover with the lid.
Cook on low for 7-8 hours or on high for 4-5 hours.
Taste and season with additional salt if required before serving with boiled rice and the cucumber relish.
fresh cucumber relish
Knead the tamarind and water together until the mixture is murky and thick. Sieve to remove any fibre or seeds and reserve the liquid.
Trim the cucumber, chop into ½cm dice and place in a bowl with the tamarind water, palm or brown sugar, onion, lemon grass and mint. Season with salt before serving.
Cooks Tips
- Traditionally the meat is not browned, but for our tastes, you may prefer to do this step. - Bruise the long green lemon-grass stems with the handle of a knife. Tie in a knot and place in a teapot, pour on boiling water and stand for 3 minutes before serving this for a refreshing tisane (herbal tea). - Leos is the Indonesian name for galangal. It is a member of the ginger family and the rhizone is the part eaten. It has a ginger, pine and pepper flavour and is highly aromatic and pungent. It is available frozen or dried from Asian food shops. - Sambal Oelek is a paste of crushed chillies, vinegar and salt, though some brands may include other flavours such as garlic and sugar.