Add to Cookbook

Beef olives
without browning 30 minutes, with browning 45 minutes
low 6-7 hours, high 3-4 hours
8-10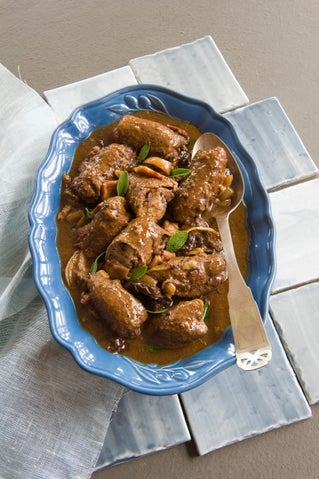 The name does not have any association with the olives that you pick off a tree. Rather, beef olives are a very old dish - in fact from medieval times - when they were referred to as 'aloes', from the French word alou meaning lark. It was thought that these braised little goodie bags of beef and stuffing looked like little birds prepared for the table, espeically if they were minus their heads! Whatever you call them, beef olives are a great family dish.
Ingredients
2 cups fresh breadcrumbs
75 grams butter, chilled and grated
½ teaspoon celery seeds, crushed, optional
½ teaspoon dried thyme
½ teaspoon dried oregano
grated rind 2 lemons
10-12 beef schnitzels
1-2 onions, peeled and sliced
1 cup chopped prunes
¼ cup flour
2½ cups beef stock
¼ cup redcurrant jelly, optional
¼ cup HP or Worcestershire sauce
Method
Turn the slow cooker on to low to pre-warm while gathering and preparing the ingredients.
Mix together the breadcrumbs, butter, celery seeds, thyme, oregano and lemon rind.
Place one schnitzel on top of a piece of damp plastic wrap on a chopping board. Sprinkle the meat with a little water and cover with a second sheet of plastic wrap. Hit firmly with a mallet or rolling pin to flatten the schnitzels so they are an even thickness. The dampened plastic will help prevent the meat from tearing. Repeat with remaining schnitzels. Cut the schnitzels in half cross-wise.
Place a spoonful of stuffing on each piece of beef and roll up to enclose the filling. Secure with a toothpick.
If wishing to brown the ingredients then heat a dash of oil in a frying pan and brown the beef olives until well browned. Brown the onion if wished.
Into the pre-warmed slow cooker put the beef olives, onion and prunes.
In a jug mix together the flour, stock, redcurrant jelly if using and HP or Worcestershire sauce and pour over the beef olives. Cover with the lid.
Cook on low for 6-7 hours or on high for 3-4 hours. Serve the beef olives with seasonal vegetables.
Cooks Tips
Variations - Use a bought pre-made dried stuffing mix. - Add sliced celery and carrots with the onion. - Use pork schnitzels in place of beef schnitzel. - Wrap the beef olives in bacon rashers before securing with a toothpick and browning. - Add a can of chopped tomatoes. - Use a can of your favourite cook-in-style sauce with ½ cup water in place of the flour and stock. - Even though schnitzels come thinly sliced, it is always a good idea to flatten them a little. This way you get two beef olives from each schnitzel adn the meat is not so thick when rolling.