Add to Cookbook

Beef Fillet With Mint Salad and Miso Vinaigrette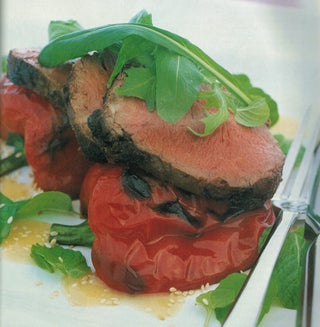 Simple to cook and can be served warm or cold - ideal to prepare in advance. The mint leaves are a great match with the miso dressing.
Ingredients
7-10 cm piece of fresh ginger, peeled
¼ cup shoyu soy sauce
2 tablespoon sesame oil
1 teaspoons ground white pepper
1 kilogram beef fillet, well trimmed
3 red peppers, halved and grilled
Minted Salad
3 cups baby salad greens
1 cup fresh mint leaves
Miso Vinaigrette
½ cup olive oil
2 tablespoon each sesame oil and toasted sesame seeds
¼ cup cider vinegar
2 tablespoon honey (rewa rewa is good here)
2-3 teaspoon white miso paste
Method
Preheat the oven to 200°C . Set the rack in the middle of the oven.
Grate the ginger finely and mix with the soy sauce, sesame oil and white pepper. Rub over the beef fillet. (At this stage the beef can be refrigerated overnight).Heat a frying pan until very hot. Seal the beef on all sides.
Transfer to the preheated oven for 20 minutes. Remove and stand on a warmed plate for 10 minutes before carving and serving with grilled red peppers, topped with the Mint Salad and Miso Vinaigrette.
Mint Salad with Miso Vinaigrette
Wash the salad leaves and mint leaves together and either spin dry in a salad spinner or shake in a clean tea towel. To keep crispy for 1-2 hours before serving wrap the washed leaves in a clean tea towel and keep in the fridge until ready to use.
For the dressing, place all the ingredients in a jar, seal and shake to combine.
Cooks Tips
When making dressing, cider and wine vinegars will offer a far subtler taste than distilled vinegar.