Add to Cookbook

BBQ polenta with basil and bacon
5 minutes, chill time 30 minutes or overnight
35 minutes
8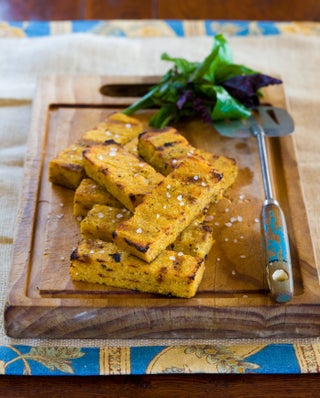 When the Parkers roll out the barbecue, Toby likes to spruce up a basic polenta with plenty of chopped fresh basil from the back garden and some diced and pan-fried bacon. He then completes the dish by chargrilling the polenta on the barbecue and serves it with a delicious, locally grown and pressed virgin olive oil.
Ingredients
2 cups water or stock
1 cup polenta
2-3 rashers bacon, grilled and crumbled
½ cup grated Parmesan
¼-½ cup chopped sun-dried or semi-dried tomatoes
handful fresh basil, chopped
Method
Bring the water or stock to the boil in a large saucepan. Quickly whisk in the polenta and keep stirring over a low heat for about 30 minutes until the mixture starts to come free from the sides of the saucepan and a smooth textures has been reached (it should still taste a little gritty).
Remove from the heat and stir in the bacon, Parmesan, tomatoes and basil. Season with salt and pepper to taste.
Pour into a shallow dish that is large enough to have the polenta about 1-1.5cm thick. Refrigerate for at least 30 minutes or overnight. Brush with olive oil, cut into shapes and cook on the barbecue grill or in a frying-pan until browned. Serve hot with additional olive oil.