Add to Cookbook

BBQ Cervena Venison Leg Fillets with Toasted Fennel Seed Crust Grilled Summer Vegetables and Walnut Pesto
4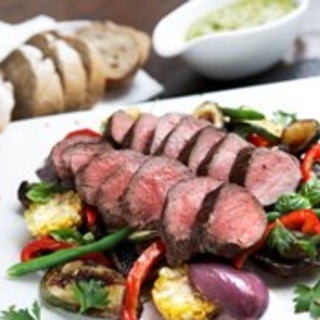 This recipe comes courtesy of Graeme Brown @ cervena http://www.cervena.com/
Ingredients
Cervena Leg Fillets
(700g) Leg fillet (or 1 FD portion) of venison
1 tbsp toasted fennel seeds
Flake salt and cracked pepper
2 Tbsp olive oil
Garlic
Fresh basil, oregano and thyme
Selection of available vegetables such as zucchini, aubergine, capsicum, asparagus, beans, red onion, corn, flat mushrooms, or young fennel bulb.
Walnut Pesto
½ cup of Fresh walnuts
1 small clove crushed garlic
2 cups flat leaf parsley leaves
¼ cup walnut oil
1 ½ Tbsp Fresh cream
Salt and pepper to taste
Method
Grind salt and pepper and fennel seed in a mortar and pestle and rub into the venison. Allow to stand for ½ hour prior to cooking. Sear venison on high heat, remove to rack if BBQ has a hood, or to the side away from high heat and cook for about 10 minutes.
Rest, and slice when required.
Chop vegetables into bite size pieces and coat generously with olive oil and chopped garlic. Add a few small sprigs of basil, oregano and thyme and grill on the hot plate until just al dente.
Serve the sliced meat on top of the vegetables with walnut pesto on the side.
Walnut Pesto
Puree nuts, parsley, garlic to a paste add oils slowly and finish with cream.