Add to Cookbook

Basque Lamb Cutlets
15 minutes ( marinating time 30 minutes)
10 minutes
4-5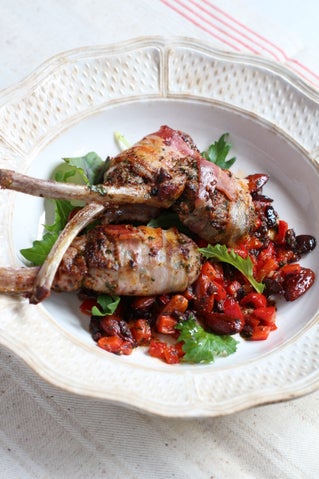 New to market , intense sweet paprika tasting, King Sweeties capsicums are crunchy, exceptionally sweet and contain only a few baby sized seeds. They remind me of the flavoursome piment d'Espelette capsicums, we enjoyed in the Basque region of SW France while living near there. I've used them here to make an easy warm fresh relish which could also be called a salsa to accompany pancetta wrapped lamb cutlets.
Ingredients
10-12 Frenched lamb cutlets
1 teaspoon piment d'Espelette pepper or use paprika (unsmoked)
2-3 large cloves garlic, crushed and peeled
1/4 cup fresh majoram leaves (lightly packed) , or use oregano
1/2 cup orange scented olive oil, or use olive oil and grated rind one orange
8-12 rashers pancetta, or finley sliced rindless bacon
2 King Sweeties or medium-sized deep red capsicums
1/2 cup almonds, blanched or unblanched
2 anchovy fillets, mashed or finely chopped
1/2 cup black olives, coarsley chopped
Method
Place the lamb cutlets in a dish. Into a small mini food processor, process the piment d'Espelette or paprika, garlic, marjoram or oregano and orange-scented olive oil , or olive oil and orange rind until well blended. Pour over the cutlets , turn to coat, cover and set aside, at room temperature for 30 minutes to marinate. If wished refrigerate. While the cutlets are marinating prepare the warm relish / salsa.
Dice the capsicums. Heat a good dash of oil in a frying pan - not one that you need for cooking the cutlets- and cook the capsicums and almonds over a moderately high heat until the capsicums have softened, turned a little golden in parts and you hear the almonds crackle - they do this when they are toasted and golden brown in colour. Stir in the anchovy and olives and set aside .
Take the cutlets from the marinade, brushing off any excess and reserve the marinade. Wrap each cutlet in a rasher of pancetta or bacon.
Pan fry or bbq over a moderately high temperature for 3-4 minutes each side. Cooking time will depend on the thickness of the cutlet, but ideally cutlets should be medium-rare. Set the cooked cutlets aside to rest for a couple of minutes. They will not go cold and the resting time will ensure that the cutlets are tender to eat.
Add the reserved oil-based marinade to the capsicum relish / salsa and warm through until hot. Season with pepper if wished.Serve the cutlets accompanied with the relish/salsa and a green salad on the side.