Add to Cookbook

Basil and tomato loaf
2 hours (includes preparation time)
Makes 1 large or 2 small loaves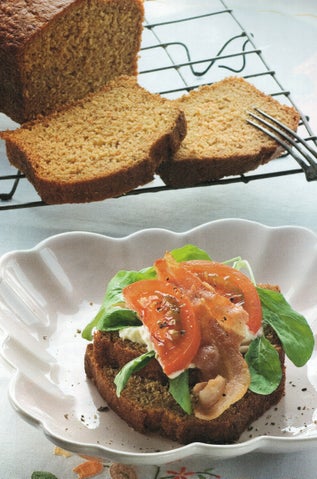 This is a real American-style loaf, with sweet and savoury flavours all mixed together. It is best on the day it is baked, still warm and buttered with unsalted butter or served with grilled bacon, tomatoes, salad greens and your favourite mayo. It's also delicious toasted and topped with cream cheese and fresh basil leaves.
Ingredients
3 medium-sized tomatoes
1 spring onion, tirmmed
1 tablespoon tomato paste
6 basil leaves or 1 tablespoon basil paste
1 teaspoon grated fresh ginger
1 cup caster sugar
3 eggs
125 grams softened butter
2 teaspoons baking powder
1 teaspoon baking soda
1 cup wholemeal flour
1 cup flour
Method
Quarter and deseed the tomatoes and discard the seeds. Place the wedges in a food processor with the spring onion, tomato paste, basil, ginger and sugar and process until smooth.
Add the eggs, softened butter, baking powder and baking soda and process the mixture for 1 minute. Scatter the flour evenly around the blade of the food processor and pulse to mix evenly.
Turn the mixture into a well greased, floured and lined 21cm x 9cm loaf tin or 2 7.5cm x 17cm loaf tins.
Bake at 180ºC for 50-60 minutes or until a skewer inserted comes out clean. For smaller loaf tins, allow 35-40 minutes. Cool in the tin for 10 minutes then turn out onto a cake rack to cool completely. Store in an airtight container in the fridge.