Add to Cookbook

Basic Crêpes
40 minutes includes standing time
15 minutes
Makes 6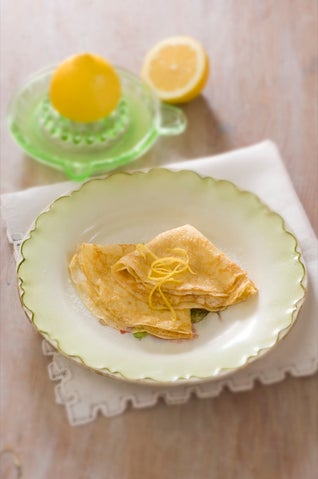 Crepes are traditional thin French pancakes. I enjoy them with freshly squeezed lemon juice and sugar, then rolled up like a cigar and served with whipped cream.
Ingredients
½ cup flour
1 egg
about ¾ cup milk
Method
Sift the flour with a pinch of salt into a bowl and make a well or deep hole in the centre.
Beat the egg and milk together and strain to remove any lumps of egg.
Slowly pour the egg and milk into the well, stirring with a wooden spoon or whisk to gradually incorporate into a smooth batter.
Once all the liquid has been added, beat well for 30 seconds. Strain into a jug, cover, and allow to rest 30 minutes.
Pour sufficient batter into the base of a moderately-hot greased pancake pan so that when the pan is rotated the batter just covers the base with a thin layer.
When the crepe surface begins to look dull on the top and the bottom is brown, flip the crepe over and cook the other side only until it is browned (about 1 minute). Stack the crepes on top of each other until ready to eat.
Serve sprinkled with caster sugar and freshly squeezed lemon juice.
Cooks Tips
To freeze pancakes and crepes place a piece of paper between each layer. This will help separate each layer easily when defrosting.