Add to Cookbook

Barbecued Pork Kebabs With Fresh Peaches
10 to 15 Minutes
10 to 15 minutes
30 minutes
4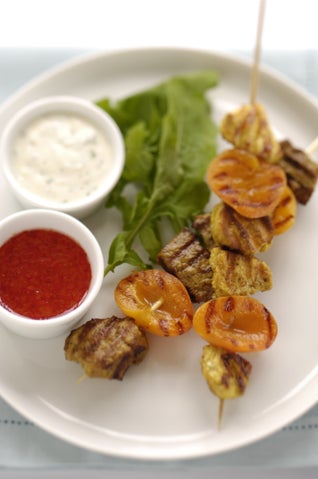 Begin the week with a spicy and healthy start with this quick idea. Add a salad and boiled long grain or basmati rice scented with a cinnamon stick.
Ingredients
500-750 grams thick cut pork Scotch fillet or use chicken breast
rind and juice of 1 lime
4 tblsp olive oil
1 tsp each minced garlic and ginger
1 tblsp curry powder
1 tsp garam masala
2-3 large summer peaches
Ginger and Chilli Dipping Sauce
2 red chillies, deseeded and finely chopped
½ cup sugar
½ cup hot water
1 tsp minced ginger
Method
Cut the pork steaks into large 3cm cubes.
Place the pork, lime juice, rind, olive oil, garlic, ginger, curry powder and garam masala in a resealable plastic bag, seal and toss together to ensure the meat is well covered with the marinade ingredients. Leave at room temperature for 30 minutes, any longer, refrigerate until required.
Cut the peaches in half, remove the stones and then slice thickly. Thread the meat and peaches onto soaked bamboo skewers.
Barbecue on a well-greased hot grill plate or under a hot grill for 6-8 minutes turning regularly until the pork is tender and the peaches slightly grilled. Serve with salad and the Ginger and Chilli Dipping Sauce and fresh minted yoghurt if wished
Ginger and Chilli Dipping Sauce
Mix all the ingredients together, stirring until the sugar dissolves.
Cooks Tips
If fresh peaches are out of season use a well-drained 400gram can of sliced peaches or apricot halves.