Add to Cookbook

Banana Date Tart with Coconut Lime Ice Cream
30 minutes
15 minutes
overnight
6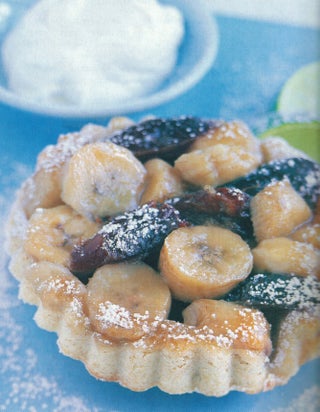 Dates and cardamom have a wonderful affinity with bananas and this is one of my all-time favourite desserts. It's easy to make, looks stunning and tastes sensational accompanied by your favourite ice cream. If planning to serve with the Coconut and Lime Ice Cream, then prepare the ice cream the day before.
Ingredients
Pastry
1½ cups flour
½ teaspoon baking powder
¼ cup caster sugar
1-2 teaspoons ground cardamom
100 grams chilled butter, diced
chilled water
Fruit
3-4 large bananas
12-14 fresh dates, stoned
25 grams butter
2 tablespoons brown sugar
Coconut and Lime Icecream
6 egg yolks
¾ cup caster sugar
2 cups cream
1 cup coconut cream
grated rind of 3 limes
Method
Put the flour, baking powder, caster sugar and cardamom in a food processor and pulse to sift.Add the butter and process until the mixture forms fine crumbs. Pulse in sufficient water to make small moist balls of dough. Turn out and bring together. Wrap the dough balls in plastic wrap and refrigerate for 15 minutes.
Fruit
Cut the bananas into thick slices and halve the dates .Heat the remaining butter in a 20-23cm ovenproof frying pan and when melted, sprinkle in the sugar. Arrange the bananas and dates on top of the melted butter and the sugar.
To Assemble and Bake
On a floured board, roll out the pastry, just large enough to cover the top of the pan. Place on top of the banana-date mixture and tuck the edges around the pan.
Cook in the oven at 200ºC for 15 minutes until the pastry is well risen and golden. Carefully turn out on to a serving plate and garnish with pared lemon or orange rind. Serve in wedges.
Coconut and lime ice cream
In a bowl, blend the egg yolks with half the sugar, then whisk until very light and thick. Stir the remaining sugar into the cream and coconut cream and bring to scalding point. Slowly stir the hot cream into the egg yolks, being careful not to go too fast as you will scramble the eggs.
Place the mixture into the top of a double saucepan or a large heat-proof bowl and stir over a saucepan of simmering water until the mixture thickens and coats the back of the spoon. Remove from the heat and pour into a cool, clean bowl to arrest the cooking. Stir in the lime rind. Cool and then refrigerate until cold.
Freeze in an ice-cream machine following the manufacturer's instructions or pour into a large lidded freezer-proof container and freeze for 4 hours. Beat the mixture with a whisk or electric beater and return to the freezer. Repeat once more, then freeze ice cream again.
Cooks Tips
Time poor ?, then use bought short crust pastry rather than making your own.