Add to Cookbook

Ballindalloch Shortbread
20 minutes
45 minutes
Makes 24-30 pieces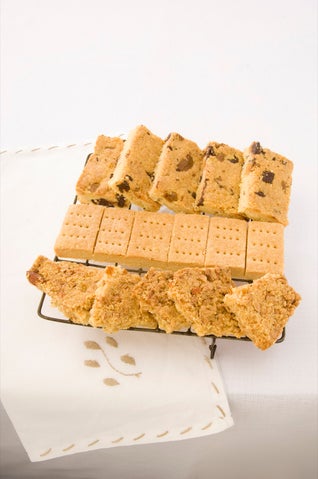 This recipe originates from Scotland's Ballindalloch Castle in Banffshire, in the Scottish Highlands. I love the texture the semolina gives the shortbread and the indulgence of adding loads of chocolate. The grated rind of an orange is also nice here to make a jaffa version.
Ingredients
250 grams butter, softened
¾ cup caster sugar
1 tsp vanilla essence
2 cups flour, sifted
½ cup semolina
1 cup very coarsely chopped dark and/or milk chocolate
2 tablespoons caster sugar for sprinkling on top
Method
Beat the butter, sugar and vanilla essence together until the mixture is pale in colour and fluffy in texture. Stir in the sifted flour, semolina and chocolate.
Press the mixture into a greased and lined 20cm x 30cm slice tin and press down firmly to make a smooth top. Mark the dough into about 24 pieces without cutting all the way through the shortbread. Sprinkle with extra caster sugar to make a light coating on top.
Bake at 160ºC for 45 minutes or until golden and the shortbread is firm to the touch. Remove from the oven and allow to cool for 10 minutes before cutting through the shortbread where you have marked the pieces.
Leave in the tin until completely cooled before storing in an airtight container.
Cooks Tips
Avoid using white chocolate in this recipe as it overcooks. Did you know traditional shortbread in Scotland is associated with the Yule season. This includes Christmas and New Year. The round shortbread cakes that are notched around the edges symbolise the sun's rays.