Add to Cookbook

Balinese-inspired Bread and Butter Pudding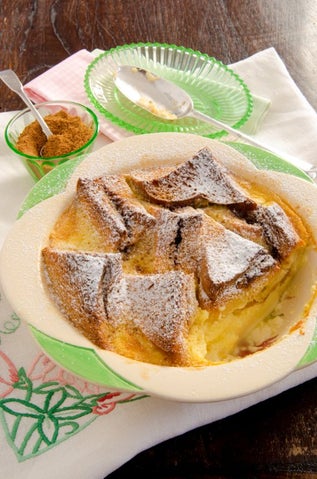 A nice twist on the traditional bread and butter pudding.
Ingredients
4 thick slices brioche
2 tablespoons butter, softened
1/4 cup Cinnamon Palm Sugar
250 grams mascarpone
1 cup milk
3 large eggs
1/4 cup sugar
2 teaspoons vanilla essence
Method
Preheat the oven to 180ºC. Lightly grease a 6-cup capacity ovenproof dish.
Spread the four slices of brioche with the butter and sprinkle the cinnamon sugar evenly on two of them and sandwich with the remaining two.
Place into the prepared bowl.
Beat the mascarpone, milk, eggs, sugar and vanilla essence together until well-mixed. Pour over the brioche.
Bake in the preheated oven in water bath for 1 hour or until a knife inserted comes out clean. Stand for 10 minutes before serving warm with the Whisky Sauce.