Add to Cookbook

Balinese fish and prawn cakes
10 to 15 minutes
10 to 12 minutes
15 minutes
6 (about 20 patties)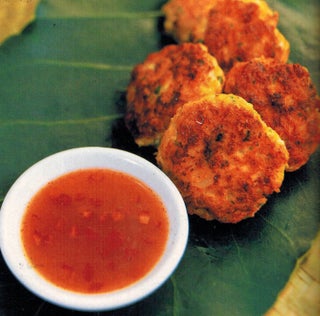 Fragrant Balinese flavours make these cakes a bit special.
Ingredients
500 grams boneless firm-fleshed white fish
250 grams shelled green prawns
4 tblsp basa genep (see website on recipe)
¼ cup finely chopped shallots
1 tsp minced fresh garlic
1 tsp minced fresh ginger
2 tsp salt
1 egg white
2 tblsp chopped fresh coriander
clarified butter or oil to pan-fry
Method
Cut the fish into 3cm pieces and place in a bowl with the prawns. Add the Basa Genep, shallots, garlic and ginger and toss well. Cover and marinate for 15 minutes.
Transfer the ingredients to a food processor, add the salt, egg white and coriander and pulse until the mixture is well chopped but has not become a paste.
Mould large tablespoonfuls into about 20 even-size patties.
Heat sufficient butter or oil to just cover the base of a non-stick frying pan and cook the patties for about 5-6 minutes, turning once until they are golden and cooked. Do not over cook as they will become dry and tough. Serve with your favourite chilli dipping sauce.