Add to Cookbook

Baked apricot and pistachio-stuffed pork steaks with pinot noir jus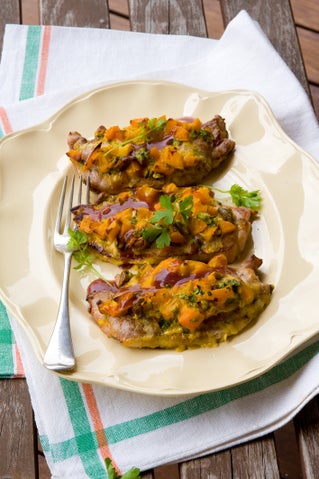 Pork has a natural affinity with stone fruit and Sarah's preference is for apricots, which she tossed with vibrant green pistachio nuts and gutsy cuming to create an appetising stuffing, all enhanced with a Pinot Noir jus, prepeared, of course, with the family award-winning Pinot Noir.
Ingredients
4x 2.5-3cm thick Scotch fillet or sirloin pork steaks, trimmed of fat
4 fresh apricots, stoned and finely chopped
¼ cup shelled pistachio nuts, chopped
2 tablespoons chopped fresh parsley
1 egg, lightly beaten
1-2 teaspoons ground cumin
Pinot Noir Jus
1 cup Pinot Noir
1 cup chicken stock
1 teaspoon cornflour or arrowroot
Method
Preheat the oven to 190ºC. Lightly grease a heatproof dish such as a roasting dish.
Heat a dash of oil in a frying-pan until hot, thick quickly brown the pork steaks on both sides. Use a sharp knife to make two deep, lengthwise cuts in each steak, but do not cut all the way through.
Mix together the apricots, pistachio nuts, parsley, egg and cumin and season with salt and pepper. Spoon the stuffing mix into the cuts, arranging any excess on top. Place the pork in the prepared roasting dish. Bake in the preheated oven for 15-18 minutes or until the pork is tender. Set the pork aside and, while resting, prepare the sauce.
Add the wine and stock to the pan and simmer for 5 minutes to reduce by a quarter, stirring to lift any sediment from the pan. Mix the cornflour or arrowroot with a little water to make a smooth paste and stir into the pan. Cook only until thickened. Season with salt and pepper, if wished.
Serve the Pinot Jus over the pork chops. Accompany with creamy mashed potatoes and seasonal vegetables.
Cooks Tips
- The pork can be prepared in advance and kept refrigerated until required. If cooking directly from the fridge, add an extra 5 minutes cooking time. - Rather than baking pork steaks with this stuffing, cut a central pocket in a whole pork Scotch fillet (without cutting all the way through at the other end) and fill with the stuffing. Secure the opening with a toothpick before roasting. Add an extra dimension by wrapping the fillet in bacon rashers - bacon works well with Pinot Noir and fruit.