Add to Cookbook

Bacon and bean braise
20 minutes, soaking time - overnight
low 12-13 hours, high 8-9 hours
6-8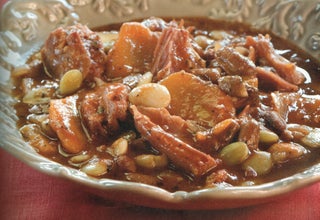 Bacon hocks - an off-cut from the bacon curing process - with their deep-smoky flavour, make a delicious hearty and inexpensive meal especially when cooked with dried beans in a slow cooker.
Ingredients
1 cup dried borlotti beans
1 cup dried baby lima beans
3 carrots, peeled and sliced
2 red onions, peeled and diced
2 teaspoons minced garlic
1-2 teaspoons dried basil
1 teaspoon dried mixed herbs
1 litre tomato juice
1 cup chicken or vegetable stock or water
2 bacon hocks
½ cup chopped fresh parsley or basil
Method
Soak the beans in plenty of cold water overnight. You will need 3-4 times the amount of water to beans.
Drain the beans and transfer to a pre-warmed slow cooker. Add the carrots, red onions, garlic, basil, mixed herbs, tomato juice and chicken stock or water. Stir well to mix evenly. Place the bacon hocks on top and cover with the lid.
Cook on low for 12-13 hours or high 8-9 hours. It will take this long to soften the beans as the tomato juice - being acidic - will slow the cooking time of the beans considerably.
Lift the bacon hocks from the slow cooker and allow to cool. Remove and discard the skin. Pull the meat from the bones, break into chunky pieces and return to the slow cooker. Season with pepper if wished. Serve the braise garnished with the chopped parsley or basil.
Cooks Tips
You could use a ham bone (especially useful for using up the leftover ham bone from Christmas).