Add to Cookbook

Avocado oil, fruit and nut cake
20 minutes
1 hour
Makes 1x 20cm square cake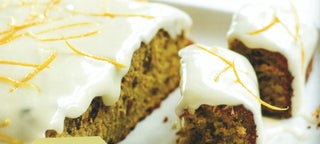 A delicious, no fuss cake to make with luscious avocado oil, mellowed with fried figs and prunes, studded with walnuts and spiked with flavourings.
Ingredients
2 oranges
1 cup chopped dried prunes and/or figs
¼ cup chopped nuts like walnuts or almonds
¼ cup medium-flavoured honey (manuka is good here)
½ cup brown sugar
¾ cup avocado oil
2 eggs
2 teaspoons vanilla essence
1 cup flour
1 tablespoon baking powder
2 teaspoons mixed spice
1 cup wholemeal flour
¾ cup wheat germ
Method
Preheat the oven to 180ºC. Grease and line a 20cm square cake tin with baking paper.
Grate the rind from the oranges and then cut away the bitter white pith and finely dice the flesh.
In a large bowl mix together the orange rind and flesh, prunes and/or figs, nuts, honey, brown sugar, avocado oil., eggs and vanilla and beat together with a wooden spoon.
Sift the flour, baking powder and mixed spice together and fold into the wet ingredients with the wholemeal flour and wheat germ. Turn into the prepared cake tin and level.
Bake in the preheated oven for 50-60 minutes or until a skewer inserted comes out clean. Cool in the tin for 15 minutes before turning out onto a cake rack to cool completely. Ice with a simple orange icing and decorate with orange rind if desired.
Orange icing
Sift 1½ cups icing sugar into a bowl and stir in 1 tablespoon melted butter and the juice of an orange to make an icing of spreadable consistency.