Add to Cookbook

Aubergine and artichoke salad
10 minutes
10 minutes
4 as a main course, 8 as an accompanying salad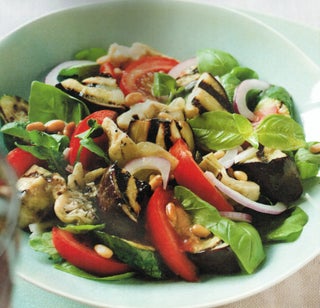 Flavours of the Mediterranean mingle here.
Ingredients
1 large or 2 small purple aubergine
¼ cup olive oil
2 courgettes, trimmed and diced
2 tomatoes, cut into wedges
1 small red onion, peeled and finely sliced
1 red pepper, finely sliced
4-6 artichoke hearts, quartered
½ cup well-packed torn basil leaves
Dressing
¼ cup olive oil
2 tablespoons cider or wine vinegar
1 teaspoon minced garlic
1 teaspoon prepared mustard, Dijon is nice here
Method
Remove the calyx, cut the aubergine into 2cm chunks and place in a large bowl. Toss the chunks in the oil.
Heat a large, preferably non-stick frying pan and when hot, cook the aubergines until lightly browned on all sides. This is best done in 2-3 batches. Set aside.
Add the courgettes to the pan and toss quickly over a high heat until just brown, adding a little more oil if necessary.
In a large bowl toss together aubergine, courgettes, tomatoes, red onion, red pepper, artichoke quarters and basil. Pour over the dressing, toss lightly and serve at room temperature. If making ahead and refrigerating, remove the salad from the refrigerator 30 minutes before serving.
Dressing
Stir all ingredients together and season with pepper and a pinch of salt.
Cooks Tips
- To make this salad quickly, use ½ cup of a bought vinaigrette-type dressing in place of making your own. - Replace basil with a blend of parsley and oregano. - For a sweeter flavour, grill the red pepper until blackened, then peel and slice thinly. - Serve this salad "just off chilled" to allow more flavour nuances. - For a more substantial salad, crumble in 150-200 grams feta cheese. - Add a few leaves of lettuce, such as rocket, for additional colour, if wished.