Add to Cookbook

Asparagus With Parma Ham And Parsley And Walnut Salsa
5 - 10 minutes
4 minutes
6 - 8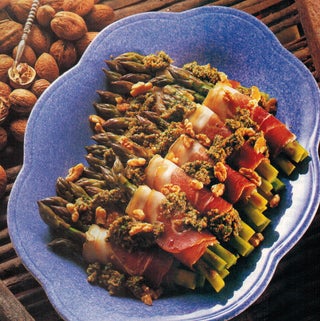 Fresh asparagus gets dressed up with an unusual flavour of salsa made from parsley and walnuts.
Ingredients
24-32 spears asparagus
boiling salted water
6-8 slices Parma ham
Parsley and Walnut Salsa
1 cup chopped parsley leaves
1 clove garlic, crushed and peeled
70 gram packet walnuts, toasted and cooled
grated rind and juice one small lemon
¼ cup grated Parmesan Cheese
3-4 tblsp walnut oil (or use olive)
salt and pepper to season
Method
Break off woody ends of asparagus. Trim all to the same size.
Peel any woody asparagus spears from just under the tips down. Thin spears do not need to be peeled.
Cook quickly in boiling, salted water for about 4 minutes, then refresh under cold water to arrest the cooking.
Drain well on absorbent paper. Wrap four spears in a slice of Parma ham and place on a serving platter. Repeat with remaining asparagus and ham.
Top with the Parsley and Walnut Salsa and serve.
Parsley and Walnut Salsa
Put the parsley, garlic, walnuts, lemon rind and juice and Parmesan cheese into a food processor.
With the motor running gradually pour the oils down the feed tube until the walnut salsa is thick and all the oil has been incorporated.
Season well with salt and pepper. Keep refrigerated . Best used within the week.
Cooks Tips
- If you do not have Parma Ham, use thinly sliced ham or smoked pork.
- Make sure you have fresh walnuts for this delicious sauce. It's the perfect companion to summer's finest asparagus.