Add to Cookbook

Asparagus, tarragon and feta tartlets
20 minutes
20 minutes
Makes 12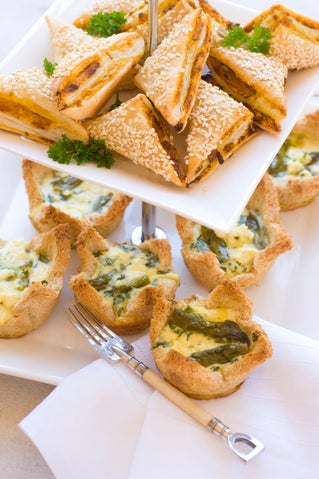 Bread cases make ideal savoury tartlet bases. They are easy to make, cost effective and, by using different breads, you can easily vary flavour and texture.
Ingredients
12 slices fresh white or wholemeal sandwich slice bread, crusts removed
2 tablespoons butter, softened
3 eggs
½ cup cream
1 tablespoon chopped fresh tarragon or 1 teaspoon dried tarragon
100 grams feta, crumbled
340 gram can asparagus, well drained
Method
Preheat the oven to 180ºC.
Butter one side of each slice of bread and place buttered-side down into 12 standard muffin tins. Press the bread firmly into the tins, so that once cooked the cases have a good shape and will hold the correct amount of filling.
Bake in the preheated oven for about 15 minutes, until golden brown around the edges and crisp. Remove from the oven and transfer to a cake rack to cool. At this stage, the bread cases can be kept in an airtight container for 2-3 days. Freeze if keeping any longer.
In a bowl, beat together the eggs, cream, tarragon and feta. Season with ground black pepper. Return the cases to the muffin tins - this gives them the support to hold the filling. Divide the mixture evenly among the prepared bread cases.
Cut the asparagus spears to fit the top of each case and divide the spears among the cases.
Bake for 20 minutes, or until the filling is set.
Cooks Tips
Variations:
- Butter the bread slices and scatter a little finely grated Parmesan on top. Press into the butter to give a cheese-encrusted base.
- Omit asparagus and use canned corn or salmon.
- Omit the feta and replace with 100 grams of grated Cheddar-style cheese or crumbled blue cheese.
- Try parsley, chives, chervil or lemon thyme.
- Add a little crumbled, well-cooked bacon.
- Asparagus, salmon and gruyere tartlets: Replace the feta with 100 grams diced smoked salmon. Sprinkle grated Gruyere on top before baking.
- Corn, bacon and thyme tartlets: Lightly beat together 300-gram can creamed corn, 3 eggs, ½ cup cream and 1 tablespoon chopped fresh thyme. Place a little chopped bacon on top of each tart before baking.
- Baked bean, ham and cheese tartlets: Mix 1 cup diced ham and a 420-gram can baked beans (or spaghetti) with 1 cup diced Edam-style cheese. Pile into the tarts and bake until piping hot.