Add to Cookbook

Arabesque lentil and tomato braise with mint labne
20 minutes
low 9-11 hours, high 4½-5 hours
10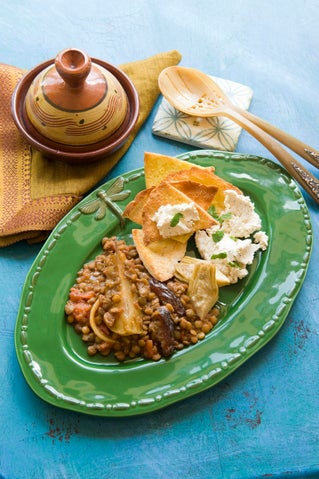 Labne is fresh yoghurt cheese that is often made scented with mint. The creaminess of the cheese is a perfect partner to serve with these spiced lentils. Spread toasted pita bread with the cheese and then scoop up the lentils and munch - it's delicious!
Ingredients
2 cups green or brown lentils
3-4 firm ripe pears
1 tablespoon minced garlic
4 cups vegetable stock or water
2x 400-gram cans Moroccan-flavoured tomatoes
2 tablespoons cumin and lemon seasoning
1 bay leaf
1 cinnamon stick
1 preserved lemon, halved
12 fresh dates, stoned and halved
Method
Turn the slow cooker on to low to pre-warm while gathering and preparing the ingredients.
Wash the lentils and drain well. Cut the pears into quarters (peel and core only if wished).
Into the pre-warmed slow cooker put the lentils, pears, garlic, stock or water, tomatoes, cumin and lemon seasoning, bay leaf and cinnamon stick. Stir well to mix the ingredients as evenly as possible, and cover with the lid.
Cook on low for 9-11 hours or on high for 4½-5 hours, or until the lentils are tender.
Wash the lemon well. Scoop out and discard the soft pulpy flesh. Slice the peel finely and stir into the lentils with the dates. Season with salt before srving with toasted pita bread and mint labne (see recipe on our website).
Cooks Tips
Variations - Use dried beans such as baby lima or navy beans in place of lentils. Don't forget to soak them overnight and adjust the cooking time as required. Add extra stock or water if required. - Add 4-5 quartered artichoke hearts before serving. - 2 cups of brown lentils are just under 500 grams, so if buying the lentils in a 500-gram bag, use all of them. - Any leftovers will freeze well, though they may require a little extra stock when reheating. - To shorten the cooking time, soak the lentils overnight in plenty of cold water. Drain well. - Cumin and lemon seasoning is a spice blend of ground cumin, garlic powder and lemon rind. Look for it in the spice section of the supermarket. If you do not have it, use ground cumin and lemon rind and add extra garlic.