Add to Cookbook

Apricot Pistachio Chocolate Slice
15 minutes
n/a
overnight
Makes 40 pieces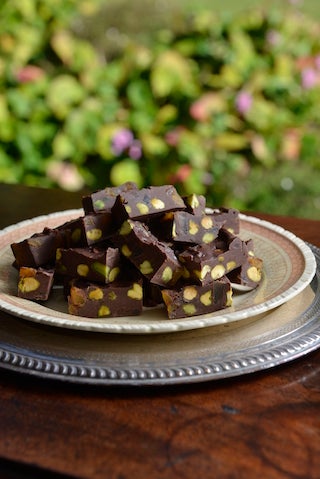 A hedonistic and truly decadent slice that will be even more delicious if you use rich dark chocolate and unsalted butter.
Ingredients
395 gram can sweetened condensed milk
500 grams dark chocolate, chopped
100 grams butter, diced
1/2 cup shelled pistachio nuts, unsalted and unroasted
1 cup plump dried apricots, chopped
1/4 cup crystallised ginger, finely chopped
Method
Line the base and sides of a shallow-sided, 18cm x 28cm or similar slice tin with baking paper.
Put the condensed milk, chocolate and butter into a microwave proof bowl – preferably glass – and heat in the microwave on high powder for about 3 minutes or until the mixture is hot, though all the chocolate may not necessarily have melted; stir well to combine. Should the chocolate or butter need further time in the microwave, heat at small bursts until all is well melted.
Stir in the pistachios, apricots and ginger and mix well. Spread out into the prepared tray. The mixture should be about 2-2.5cm thick. Refrigerate until set. Cut into small pieces with a warm, dry knife. Keep refrigerated. When planning to serve, remove from the fridge 30 minutes before hand , as the flavours will be able to be better appreciated if not too cold.