Add to Cookbook

Antipasto salad with roasted garlic dressing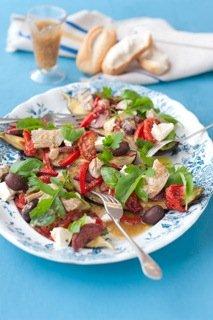 Create a luscious salad from those forever popular antipasto ingredients, like artichokes, olives and sundried tomatoes. Once arranged on a platter atop baked aubergines, set the salad aside for 10 -20 minutes - while you have a vino - to allow all the flavours to intermingle.
Ingredients
2 medium-sized aubergines, trimmed
¼ cup olive oil
100-150 grams salami, thickly sliced
1 chargrilled red pepper, sliced
½ cup black olives
½ cup sundried tomatoes, halved
125 grams feta cheese, diced
½ cup fresh basil leaves, torn
½ cup fresh parsley or rocket leaves
4 artichoke hearts, quartered, optional
Roasted garlic dressing
1 bulb garlic, roasted
¾ cup vinaigrette – your favourite
Method
Preheat the oven to 190ºC fan bake or 200ºC bake. Line a baking tray with foil.
Cut the aubergines lengthwise into quarters and brush the cut surfaces using half the oil. Place on the prepared tray and bake in the preheated oven for 20-25 minutes until tender and lightly-browned. Cool.
Cook the salami in the remaining oil in a frying pan until crisp; cool. Toss together the salami and any oil from the pan with the pepper, olives, tomatoes, feta, basil, parsley and artichokes if using.
Place the roasted aubergines on a large platter. Scatter over the salad mixture and drizzle with the roasted garlic dressing. Garnish with toasted pine nuts if wished.
Roasted garlic dressing
Cut the garlic bulb in half, squeeze out the pulp and whisk into the vinaigrette.