Add to Cookbook

Andalusian Carnival Burgers With Paprika Potato Wedges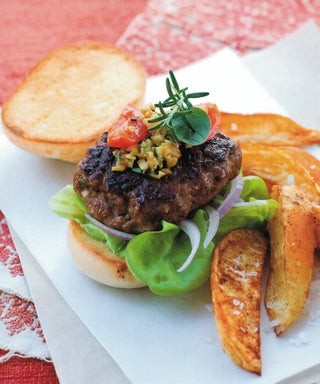 I came across this idea some years ago reading one of my favourite writers work, Elisabeth Luard. British born and reared, Elisabeth raised her family in Spain and her stories of her food adventures on life in the 70's there are memorable. As the pig reigned supreme there, beef was a luxury and often only enjoyed at festivals. With burgers always a favourite with families try my adaption of the original recipe.
Ingredients
250 grams beef sausages
500 grams lean beef mince
¼ cup fresh breadcrumbs
1 egg
½ small onion, diced
1 tblsp minced garlic
2 tblsp chopped parsley
1 tblsp each paprika and ground cumin
1 tsp each salt and pepper
Paprika potato wedges
750 grams starchy potatoes, peeled
2 red chillies, deseeded and chopped
1 tblsp paprika
Method
Squeeze the sausage meat from the skins into a bowl. Add the mince, breadcrumbs, egg, onion, garlic, parsley, paprika, cumin, salt and pepper. Mix well. Mould into 12 even sized burgers about 1cm thick, not thicker.
Grill or pan fry the burgers for about 4 minutes each side over a moderate heat so that the burgers remain medium rare. Serve on buns with chopped green olives and cherry tomatoes with your favourite salad greens ingredients and the Paprika Potato Wedges.
Paprika potato wedges
Scrub the potatoes well and leave unpeeled. Cut into thick wedges.
Toss the wedges with the chilli and paprika and a dash of oil. Place on a baking paper-lined tray and bake at 200ºC for 20 minutes or until golden brown and just cooked.