Add to Cookbook

Andalucian lamb necks
40 minutes, marinating time preferably overnight, 1 hour minimum
in the slow cooker low 5-7 hours, high 3-4 hours, plus extra 15-20 minutes
10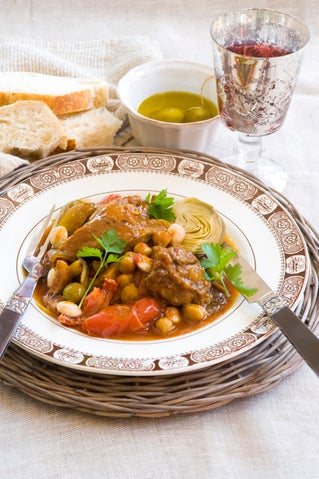 This stunning braise with its heady Spanish flavours makes good use of lamb necks, which are almost a forgotten cut. They are chubby pieces of well-marbled meat that, once well-trimmed, cook to tender perfection. This casserole's flavour improves significantly if prepared a day or two before and reheated to serve.
Ingredients
1 kilogram boneless lamb necks. well trimmed
½ cup olive oil, extra virgin oil is nice here
1 tablespoon paprika
1 tablespoon ground cumin
1 tablespoon ground coriander
1 tablespoon ground turmeric
1 teaspoon salt
1 teaspoon coarsley ground black pepper
½ teaspoon saffron threads, optional
1-2 medium-sized red onions, peeled and thickly sliced
2 bacon steaks or 6-7 rindless bacon rashers, sliced finely
3 red capsicums, quartered, seeds and core removed
6 cloves garlic, crushed, peeled and sliced
½ cups sun-dried tomatoes in oil, well drained
1 cup tomato puree
1 cup stock or dry sherry
400 gram can chickpeas in brine, well drained
Method
Place the lamb in a large dish or bowl, pour over the olive oil and sprinkle over the paprka, cumin, coriander, turmeric, salt and pepper and saffron if using. Toss well to coat, cover and refrigerate overnight to marinate. Alterntively, cover and leave at room temperature for 1 hour.
Turn the slow cooker on to low to pre-warm while gathering and preparing the ingredients.
Brown the lamb necks in a dash of oil in a hot frying-pan. Be careful not to burn the slices, but the lamb needs to be well browned. Set aside. Add the onion and bacon and brown in any residue oil.
Into the pre-warmed slow cooker put the lamb, bacon, capsicums, garlic, sun-dried tomatoes, tomato puree and stock or sherry. Cover with the lid.
Cook on low for 5-7 hours or on high for 3-4 hours, or until the lamb necks are tender. Stir in the chickpeas, cover with the lid and cook on high for 15-20 minutes, or until the chickpeas are hot.
Serve in deep bowls with an artichoke heart if wished. Garnish with fresh parsley leaves. A potato tortilla makes a wonderful accompaniment - do try it!
Cooks Tips
- If browning the lamb, add a little of the stock or dry sherry to the pan at the end and stir to lift off any flavoured-packed sediment. Add to the slow cooker.