Add to Cookbook

Allyson's Guide to Absorption Cooked Long Grain Rice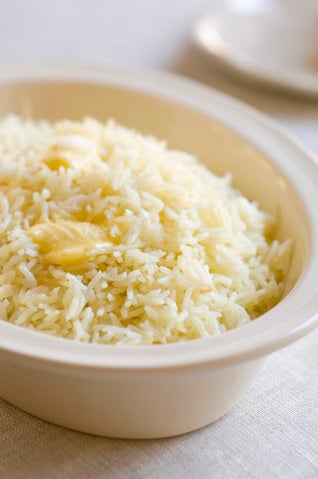 This is an easy, pretty well failsafe way to cook rice.
Ingredients
2 cups of long grain rice, well washed
1 tsp salt
2¼ cups water
½ cup chopped fresh herbs (optional)
Method
Put the rice, salt and water into a large saucepan and bring to the boil. Stir with a spoon, lower the heat, cover with a tight fitting lid and cook for 20 - 25 minutes.
Remove from the heat and stand a further 5 minutes before fluffing the rice up with a fork. Stir in the chopped fresh herbs if using. If the rice sticks a little to the base, don't worry. In some that is the highlight of the dish.
Cooks Tips
Pre-washing the rice helps keep the grains separate after cooking. This method can be used to cook short grain rice, but remember it will be very sticky.