Shrove Tuesday
Pancake Song by Christina Rossetti
Mix a pancake,
Stir a pancake,
Pop it in the pan.
Fry the pancake,
Toss the pancake,
Catch it if you can.
What day is sometimes referred to as Pancake Day?
Read on to find out and share my Shrove Tuesday pancake recipe.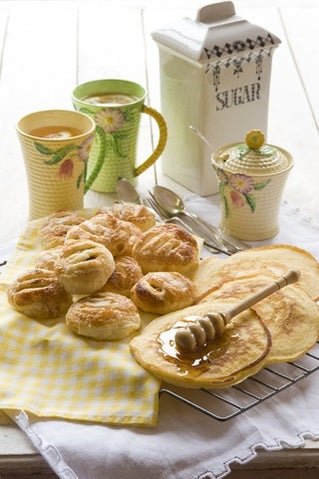 Pancake Day or more traditionally known as Shrove Tuesday is the day before the first day of Lent, Ash Wednesday; Lent being the 40 days that precede Easter. Lent is the season of fasting and prayer. Shrove Tuesday is dependent on Easter and therefore the date changes based on the cycles of the moon. For 2012 Shrove Tuesday will fall on 21 February. Essentially the day involves absolving one's sins by confessing said sins and doing penance; dating back to 1000 AD.
Making and eating pancakes was considered the last feast and included ingredients that were to be restricted during the fasting period of Lent; sugar, eggs, milk and fat. Actually the Catholic and some Protestant countries used to call Ash Wednesday "Fat Tuesday" in recognition that the rich foods and the more 'pleasurable' foods were not to be eaten during Lent.
England is famous for pancake races on Shrove Tuesday, with races amongst villages and towns in the UK. So the story goes, a housewife, in the midst of making pancakes and not noticing the time, rushed out of her home, on hearing the church bells and thinking she was going to be late for church, quite unaware that she was still carrying her pancake-laden fry pan as she ran. And so the Pancake race was borne – with participants armed with frying pans required to race through the streets tossing pancakes in the air whilst running.
Today the humble pancake continues to be a favourite for Sunday brunchers.
Shrove Tuesday
Anyone for pancakes? Hi, I'm Allyson Gofton, food guru. With Shrove Tuesday, the day before Ash Wednesday and the beginning of Lent almost upon us it's time to butter up our frypans. Coated with sugar, honey and lemon juice they're truly delish. For my Shrove Tuesday pancake recipe go to Knowledge Bank at easymix.co.nz