Pavlova - As Kiwi As
Who can resist the crunchy crust and the soft gooey centre of a perfectly crafted pavlova topped with lashings of cream and striking red strawberries? But who owns the pavlova? Does the pavlova belong to the Australians or can we claim ownership?
Read on to uncover it's pedigree and access my own favourite pavlova recipe.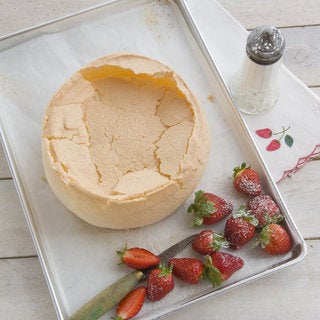 Well it seems, even with my Tasmanian heritage, I have acknowledged the research and report that the jury is out and New Zealand can now categorically claim ownership for the pavlova over Australia. Professor Helen Leach, in her researched title The Pavlova Story: A Slice of New Zealand\'s Culinary History affirms this fact and she herself has the academic credentials not to be challenged. As a culinary anthropologist at the University of Otago, Professor Leach compiled a library of cookbooks and collected over 600 pavlova recipes from more than 300 sources, it is reported. Her book clarifies that the first pavlova recipe was produced in 1929 in a farming magazine while the first records in Australia are recorded in 1935; New Zealand wins by 6 years!
The pavlova was named after an elegant Russian ballet dancer, Anna Pavlova who toured Australia and New Zealand during the 1920\'s.
Regardless of the Pavlova\'s pedigree it is enjoyed both here and in Australia, almost as a national pudding – essential at most Christmas tables alongside the steam pudding.
Helpful hints to master the perfect pavlova:
· Height is an essential outcome and to ensure that you achieve this make sure that when beating your egg whites your bowl is scrupulously clean.
· Ensure that your eggs are fresh and before mixing them they must be at room temperature. This will help them to separate well – an essential requirement as you cannot afford to have any egg yolks in your egg whites. Note: it is easier to separate a cold egg, so refrigerate the eggs before separating them but then allow yourself time to let them warm up to room temperature on the bench before progressing.
· Caster sugar should be used instead of standard sugar as it dissolves quickly
· Add your sugar slowly as you whip the eggs to ensure that the egg whites foam faster.
· Adding vinegar helps stabilise the foam and reduce the risk of lumps or the collapse of the foam.
· You may have noticed sugar droplets on top of the meringue post cooking. This is due to overcooking while liquid oozing from the meringue is a sign that it hasn\'t been cook enough.
Try my own pavlova recipe which has a little less sugar than most making it quite marshmallowy in nature.