Keeping Christmas under control
Compared to the original Christmas – leaving aside the gold, frankincense and myrrh – our present day feasts look somewhat profligate.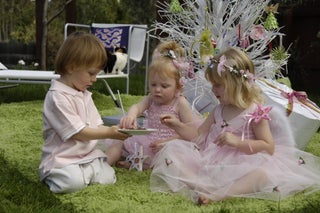 We do, however, pale into insignificance against our wealthier forebears, whose Christmas feasts tended to be multiple-coursed marathons of gluttonous excess, while the poor did with their usual sparse diet!
Still, many of today's homemakers greet the onset of the festive season with some dread, knowing that the household budget is going to have to stretch much further than usual to cope with gifts and extra food. This year the situation may be even tighter, given the sharp increase in food prices of the past few months, and the cook is going to have to be a bit smarter to produce suitable festive fare without blowing out the family finances.
But before we get to the food, what about gifts? Why not agree among family and friends that there will be a moratorium on expensive or multiple gifts? Decide on a sum to spend and don't go over it – again, it will mean smarter shopping and perhaps a bit more time spent on it, but it can be good fun to look for something different.
Possibly even better than shopping, you could grow some flower seedlings and pot them up as gifts, perhaps make something in the way of a biscuit, shortbread or sweetmeat. If you are crafty, something you've made yourself especially can be a real treasure to the recipient. For the children, one present – but fill the Christmas stocking with goodies, like fruit, sweet treats and small inexpensive gifts. Gift giving can become a monster, an ever growing treadmill as we try to outdo each other…let's go back to simpler times this year.
In the food line, look for seasonal produce – yes, I know that strawberries go rocketing up in price a couple of days out from Christmas, but they are an integral part of the Christmas feast. However, you could "spin them out" by making a fruit salad utilising other cheaper fruits.
Ask your butcher about a "mutton ham" rather than the traditional Christmas ham, which should save some expense and be just a bit different. This is a leg of mutton, cured and smoked.
Originally a traditional Scottish recipe calling for a leg of mutton – in Caithness they used the same process with geese – to be cured and smoked using salt, saltpetre, dark brown sugar, Jamaica pepper (allspice), coriander seeds, peppercorns and juniper berries. However, as a process that took a couple of weeks, I wouldn't recommend doing it yourself!
Corned beef is a perennial favourite and it is great for serving cold with salad or in sandwiches. Similarly, a piece of beef topside or rump roasted – or pot-roasted in the slow cooker – can go a long way to feed a family over the festive season. Chicken is also a cheaper alternative and as well as being able to be served hot, it's also great in salad and sandwiches. In fact, we often eat far more than we need at Christmas – what about making it simple?
One friend says that she used to do the whole nine yards…starters, ham, turkey, mince pies, Christmas cake etc., etc., but when she broke her wrist one year, she simply couldn't do it all. That Christmas the main meal consisted of fillet of beef done on the barbecue by hubby, salad, asparagus and boiled new potatoes, followed by fresh fruit and/or Christmas pudding and brandy butter supplied by one of the guests and she and her husband get a Christmas cake made and decorated by a niece. Since then, that has become the standard Christmas dinner in that particular house, because everyone agreed that the simple, delicious meal was every bit as enjoyable as the tummy-stretching traditional binge! It makes it so much easier for the hostess, too, and if the weather's bad, the meat just goes in the oven.
And when it comes down to it, Christmas really isn't all about food – or shouldn't be – and the joy of it is in getting together with family and friends for the celebration. We hope yours is a good one.
Almond Crumble Christmas Mince Tarts will double as a delicious dessert when you add cream or custard, or if you like something a bit lighter and just a little different, try Christmas Puffs
Christmas sees the end of the all-too-short asparagus season, so make the last of it special on Christmas day with a lovely creamy sauce, such as Asparagus With Hollandaise Sauce.
Buttery Almond Muffins with their delicious marzipan centres would make great Christmas gifts as well as being ideal for morning coffee after the present opening.
Christmas Slice is another recipe suitable as a gift or for your own festive table. Looking to make something for children as a gift – you can't go past a Fairytale Gingerbread House.
An economic alternative to ham, these Homemade Pork Sausages With Prune And Rum Butter will fill the bill and hungry tummies.
Mini Christmas Cakes make another ideal gift.
Use up leftover Christmas pudding with New Year Trifles.
Should you decide to have chicken as a cheaper alternative to turkey, try Roast Chicken With Fresh Date And Couscous Stuffing…the stuffing is great with turkey but it goes just as well with chicken. If you go for a beef or pork alternative, try Sesame Seed Glazed Pork Or Beef