Comforting Casseroles
Stews and casseroles are ideal winter food; thick, rich, flavoursome, filling and warming. There's not much difference between the two – generally casseroles are cooked in the oven and stews done on the top of the stove.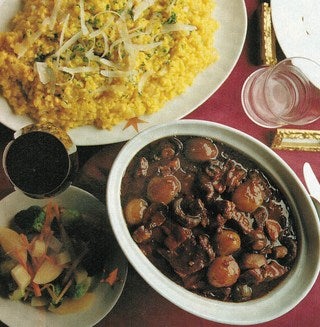 Stews and casseroles are ideal winter food; thick, rich, flavoursome, filling and warming. There's not much difference between the two – generally casseroles are cooked in the oven and stews done on the top of the stove. Either way, long slow cooking is the answer and both stew and casserole recipes are ideal in a slow cooker.
One considerable benefit of them these days is that they utilise cheaper cuts of meat which responds to long, slow cooking by developing great flavour and tenderness. Another advantage is that they make one-pot or near one-pot meals, ideal for busy cooks and households.
Many stews and casseroles improve if made the day before and left overnight in the fridge, but generally they're just as good served straight from cooking. Mostly they also freeze well, so you can make plenty and tuck some away for another night.
Coming home on a cold winter's night to a steaming plate of casserole, served with winter vegetables and mashed potatoes takes a bit of beating and is a sure-fire winner with all age groups.
You can use your imagination, too, in varying recipes to suit available ingredients or changing the flavour by using different herbs or spices. It's also a great idea to turn your stew or casserole in to a "pie" by adding different toppings without going to the trouble of pastry.
All these are quickly made – garlic, cheese or onion mashed spuds, sliced French bread (great for using up leftovers), breadcrumbs and cheese, kumara mashed with orange flesh (great with pork dishes).
Try a pancake topping, delicious over a beef or chicken casserole, or over a curry.
Pancake Topping
1 cup self raising flour
¾ cup milk
1 egg, beaten
25 grams butter, melted
Sieve flour, into a bowl and make a well in the centre. Pour in the milk, egg and butter and stir to make a batter, mixing only until blended. Spoon over almost cooked meat and bake in preheated oven at 180degC for 45 minutes or until browned.
Make sure your casseroles cut the mustard with this guide to making the most of casseroles - Casserole Cuts And Success Tips

Here are some of my favourite recipes for a warming winter meal.
Gumbo is a Creole speciality from New Orleans. It's a thick stew-like dish with vegetables… it's deliciously different. Chicken In Gumbo Sauce is spicy and soupy. Macaroni Gumbo

Lamb shoulder chops make a super economical meal – try them in this easy dish, Greek Lamb Stew
Irish Stew is a traditional and popular dish. This is my mother's version and it is my favourite winter meal served with hot buttered toast.
Tagines are one of my favourite ways to enjoy lamb or mutton in winter. Lamb Tagine With Ginger Couscous is an aromatic stew which will only taste better if made a day in advance and its' relatively quick cooking time, makes it ideal for a mid-week meal to entertain with. Use lamb shoulder chops in place of steaks and simmer a little longer for a more economical version.

Rabbit seems to be making something of a comeback, although I suspect in rural areas it has never gone away! Sadly, the days of a dollar a pair have long gone. This delicious rabbit stew makes a scrumptious meal for a cold night with friends. Rabbit will cope well with the slightly acidic sumac spice and the fiery chilli in chorizo. Mediterranean Rabbit Stew


Beef simmered gently in Guinness and flavoured with orange and prunes makes a truly delicious winter casserole. Serve plenty of roughly mashed potatoes on the side with Beef And Guinness Casserole


What could be more classic than chicken simmered with garlic…Classic Chicken Casserole


Italian Chicken And Mushroom Pie
A delicious and nutritious dinner or supper meal for the family which can be made in one large casserole dish and topped with potato.
Moroccan Beef
Spices galore enhance this easy beef casserole. With no browning of the meat before cooking
Pork And Sweet Apricot Pie Under A Crispy Polenta Crust
Look beyond the potato or pastry topping. Polenta makes a great topping for this rich flavoured pork casserole.
Simple style casseroles are my favourites. Finish Provencale Casserole with plenty of fresh thyme or sage and lots of pepper.
There are many prepared pesto sauces on the market today and they can be used for much more than a spread on crostini. Here I've used pesto as the base and main flavour-giver to an easily made chicken casserole – Roasted Red Pepper Pesto Chicken


Turn sausages into a one-pot meal with Sausage And Bean Casserole. Packed with vegetables, in a rich tomato sauce, there are also beans and lentils – full of flavour. The topping is simple but you could add a little grated cheese as well – it is up to you.
Smoked Paprika Lamb In White Wine is a classic-style casserole, full bodied and flavoursome, perfect for a winter's night served up with garlicky mashed potatoes. This dish is ideal for a dinner party of 8 people, so to serve four, do cut the quantities in half.
Turkish Style Chicken Casserole reveals wonderful flavours of dried fruits in the way that cooks in that part of the world blend sweet and savoury.
Vension Sausage Casserole jazzes up the humble sausage in rich red wine sauce, while a simple Winter Beef Casserole uses a very economical cut of beef.
Don't forget that you can also make vegetarian casseroles with all your favourite winter vegetables and the likes of beans or pasta to bulk them out. It's really up to your imagination how you combine the vegetables and you can use a vegetarian stock to enhance the flavour, along with spices and herbs. Pumpkin chickpeas and cheese are a good combination, and it's easy to make things like lentil Bolognese, or beans and cheese can be combined with herbs and spices to make a tasty dish. Rice also lends itself to casseroling for a meat-free dish…don't be afraid to experiment.
Blue Cheese Clafoutis With Winter Vegetables is a winter mélange of vegetables cooked in a tangy clafoutis to make an easy and nutritious weekend meal.
Gruyere Cheese And Vegetable Gratin – just what it says!
Serve Potato And Lentil Curry curry with Basmati and Ginger Rice as a side dish, for an ever-so-easy and delicious vegetarian Indian meal high in fibre and low on calories.
Flavour up with Vegetarian Biryani packed with spices from India. Add your own choice of accompaniments such as bananas with coconut, naan bread and of course lime pickle and mango chutney all available at the supermarket.
.