Add to Cookbook

Tamarillo And Orange Marmalade
20 minutes, standing time overnight
45-50 minutes
Makes 4-5 cups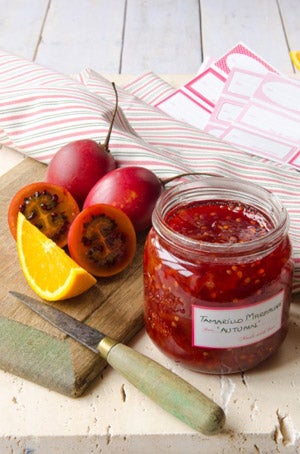 This delightful marmalade was given to me on Newstalk ZB from Barbara, who is a regular listener.
Ingredients
1 kg tamarillos
2 sweet oranges
1 cup water
4½ cups sugar
2 tblsp lemon juice
Method
Blanch and peel the tamarillos. Slice thinly and place in a bowl. Sprinkle over 1 cup of sugar, cover and leave overnight.
Thinly shred the oranges and place in a bowl. Pour over the water, cover and leave overnight.
Put the oranges with water and lemon juice into a large saucepan and bring to the boil. Lower the heat and simmer for 25-30 minutes or until the skin of the fruit has softened.
Add the tamarillos with any syrup and remaining sugar and stir until the sugar has dissolved. Boil rapidly for about 10-15 minutes or until a set is given. Pour into hot dry sterilised jars. Cool, seal and label. Store in a cool pantry.